Objective Lens Covers for Vortex Binoculars
£12.00 per pair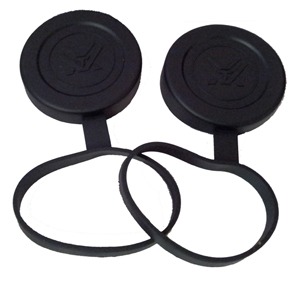 Vortex Accessories: Objective Lens Covers for
Vortex Binoculars ONLY
PLEASE KINDLY NOTE: 32mm / 42mm / 50mm etc refers to the specification of the binocular - for example 8x32, 10x42 or 12x50. It does NOT have any relevance to the physical dimensions of the binocular.
Should you decide to purchase these Objective Covers for ANY OTHER BINOCULAR than the VORTEX for which it is listed and find that they do not fit and wish to return them at your cost, we hereby advise you that we will charge a £5.00 restocking fee.
Included as standard with every pair of Vortex binoculars, objective lens covers are an invaluable addition to your Vortex binocular either just for extra protection when not in use or in the case, or, thanks to their design, they can remain attached to the binocular at all times and easily flipped down and out of the way when your binoculars are required.
In the event that one or even both objective covers are misplaced, we offer them for sale in pairs as detailed below.
Note to our overseas customers: Please choose your shipping destination carefully from the drop-down box on each product. We cannot ship overseas unless the correct postage has been applied for Tracked International delivery. Many thanks!
For
Vortex

binoculars with 28mm and 32mm Objective Lenses
| | | | |
| --- | --- | --- | --- |
| Objective Caps to fit which Vortex binocular?: | Code: | Buy It? Please select destination in drop-down box: | Stock? |
| Diamondback 8x28 & 10x28 Binoculars (all versions) | CAP-D28 | | |
| Vortex Diamondback 8x32 & 10x32 (all versions) and Raptor 32mm Binoculars | CAP-32/43 | | |
| Crossfire 8x32 & 10x32 Binoculars | CF32 | | |
| Viper 8x32 & 8x32 HD Binoculars | SW47 | | |
For
Vortex

binoculars with 42mm, 50mm and 56mm Objective Lenses