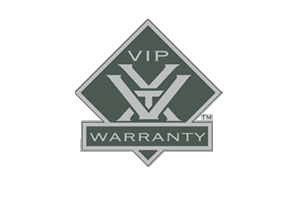 Need Spare Parts?
Accessories subject to natural wear and tear or loss, such as objective lens caps, rainguards, rubber eyecups, carrying cases and straps are not covered by the VIP Warranty, but we will always help you with these items.
The Accessories Page shows all available Vortex accessories - if they are not in stock when you try to purchase them ,please call or email Vortex @ Newpro UK Ltd, and we'll do our best to let you know how soon we can get them to you.
Phone: 01367 242411
Email: sales@newprouk.co.uk
Hours
We're open 8.30am to 5pm Monday to Friday.
Need to purchase return postage for your Vortex repair? Just click the button below.
Need to pay charges?
Warranty Testimonial - PDF file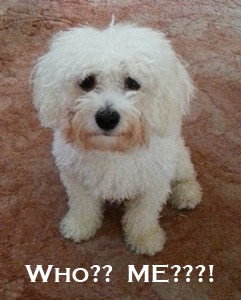 IMPORTANT NOTE - OBSERVATION PRODUCTS: Any GREY IMPORTS or products not purchased through our UK Authorised Dealers (Click for full list) are subject to charges - See 'Need spare parts?'
Our warranty is about you, not us. It's about taking care of you after the sale.
The VIP stands for a Very Important Promise to you, our customers. Through our UK Authorised Vortex Dealers we will repair or replace your Vortex binoculars, spotting scope or monocular should it become accidentally damaged and unusable at NO CHARGE TO YOU*. If we cannot repair your product, we will replace it with a product in perfect working order of equal or better physical condition. Other than loss, purposeful damage or mistreatment or cosmetic damage that does not hinder the performance of the product, it doesn't matter how it happened, whose fault it was or which NEWPRO authorised Vortex observation optics dealer you purchased it from in the UK and Ireland. You can count on the VIP Warranty:
Unlimited lifetime
Fully transferable
No warranty card to fill out
No receipt needed to hang on to
If you ever have a problem, no matter what the cost, we promise that we will take care of you.

*Subject to optional postage / handling charge.
Return Procedure
Step 1: Your first port of call is your Vortex UK Authorised Dealer but if you prefer, ship your binoculars, spotting scope or monocular (NOT Riflescopes, RedDots or Recons - sorry we do not handle these products) in a well-packed cardboard shipping carton, with an explanation of the fault and where and when you bought them - the name and town/city of your Vortex UK Authorised Dealer and your contact details to the following address:

Vortex at Newpro UK Ltd
3 Radcot Estate
Park Road
Faringdon
Oxon.
SN7 7BP

Step 2: Vortex at Newpro will evaluate your product and repair or replace it at no charge. Product replacment or repair decisions are made solely at the discretion of our technicians. If we cannot repair your product, we will replace it with a product in perfect working order of equal or better physical condition. If an item cannot be repaired and is no longer available, a product of similar value and/or specification will be substituted.

Please Note: No charge replacement eyecups do require return postage please. See "Need Spare Parts?".

Step 3: Vortex at Newpro will ship your product back to you in a timely manner. Average turn around time of 15 business days after receipt of product throughout the year but often much sooner.

Fine Print: Theft, loss of a product or purposeful damage is not covered...that's it.
A perfect example here: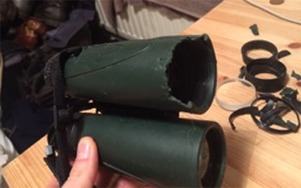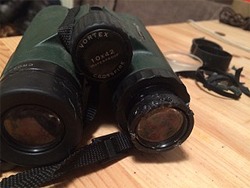 The Vortex VIP Warranty at work:
These 42mm Crossfire binoculars were discovered by their owner after their dog took a shine to them!.
Although the dog may not have got the hang of using them correctly this time, the Vortex VIP Warranty ensured that their owner was fully covered and received a replacement pair a couple of days after sending them in!!