PhoneSkope Phone Cases
PhoneSkope phone cases for the iPhone series from iPhone 4/4s through to the latest iPhone 11 ProMax and Samsung Galaxy S series from the S3 through to the latest S20+ and Note 8 & 9 are all-in-one moulded cases. All other PhoneSkope cases listed below comprise a hard plastic case with the PhoneSkope bayonet piece attached.
Simply put your phone into the PhoneSkope case and then attach either a C-3 Dedicated Adapter or either the U1 Mini or U2 Universal Click-lock adapters and you will then be ready to begin Phonescoping with your Smartphone.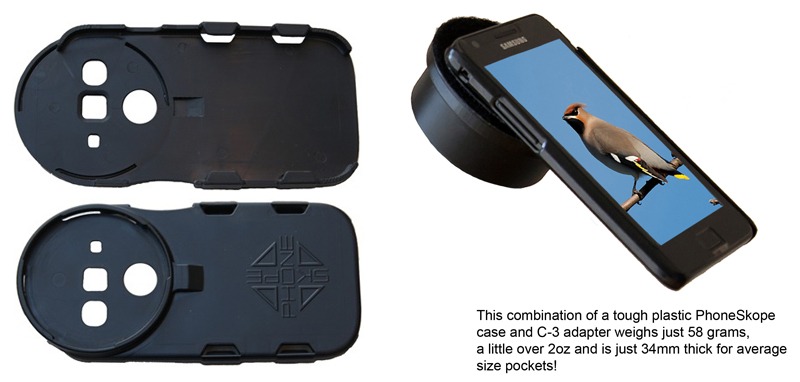 The images above show the front and back of the all in one case for the Samsung Galaxy S3 and alongside it a complete PhoneSkope setup - in this example a Galaxy S2 with Vortex Razor HD eyepiece adapter. (Not to scale).
| | |
| --- | --- |
| IMPORTANT Information - Overseas Shipping: | Price: |
| For all orders shipping overseas from the UK, please click on this Add to Cart button to add £7.00 International Signed For postage to your complete order. We regret that we cannot ship overseas orders unless this postage has been added. | |
PhoneSkope Cases for iPhones:
Order code:
Price:
Buy It?
Stock?
Image
Case for iPhone SE 2020 edition (Same as iPhone 7/8)
C1-i7/8
£40.00
Case for iPhone 11
Phoneskope recommends you use their free "Phone Skope Camera" app which has many features including switching cameras easily.
C1-i11
£49.00
Case for iPhone 11 Pro
Phoneskope recommends you use their free "Phone Skope Camera" app which has many features including switching cameras easily.
C1-i11pro
£49.00
Case for iPhone 11 Pro Max
Phoneskope recommends you use their free "Phone Skope Camera" app which has many features including switching cameras easily.
C1-i11promax
£49.00
Case for iPhone Xs Max
Phoneskope recommends you use their free "Phone Skope Camera" app which has many features including switching cameras easily.
C1-iXMAX
£49.00
Case for iPhone XR (Same case as iPhone 11)
Phoneskope recommends you use their free "Phone Skope Camera" app which has many features including switching cameras easily.
C1-iXR / C1-i11
£49.00
Case for iPhone X and iPhone XS
Phoneskope recommends you use their free "Phone Skope Camera" app which has many features including switching cameras easily.
C1-iX/iXS
£49.00
Case for iPhone 7 and iPhone 8
C1-i7/8
£40.00
Case for iPhone 7 plus and iPhone 8 plus.
Phoneskope recommends you use their free "Phone Skope Camera" app which has many features including switching cameras easily.
C1-i7P/8P
£49.00
Case for iPhone 6 / 6s
C1-i6
£40.00
Case for iPhone 6 plus / 6s plus
C1-i6plus
£40.00
Case for iPhone 5 / 5s & iPhone SE (NOT 2020 SE model)
C1-i5
£40.00
Case for iPhone 5/5s/SE in Otterbox Case

- Clearance

C1-i5OB
£20.00
Case for iPhone 4 / 4s

- Clearance

C1-i4
£10.00
| | |
| --- | --- |
| IMPORTANT Information - Overseas Shipping: | Price: |
| For all orders shipping overseas from the UK, please click on this Add to Cart button to add £7.00 International Signed For postage to your complete order. We regret that we cannot ship overseas orders unless this postage has been added. | |
PhoneSkope Cases for Samsung Phones:
Order code:
Price:
Buy It?
Stock?
Image
Case for Samsung Galaxy S20 (SM-G980)
C1-S20
£49.00
Case for Samsung Galaxy S20+ (SM-G985)
C1-S20+
£49.00
Case for Samsung Galaxy S20 Ultra (SM-G988)
C1-S20Ultra
£49.00
Case for Samsung Galaxy S10 (SM-G973F)
C1-S10
£49.00
Case for Samsung Galaxy S10+ (plus) (SM-G975F)
C1-S10+
£49.00
Case for Samsung Galaxy S10E (SM-G970F)
C1-S10E
£49.00
Case for Samsung Galaxy S9 (SM-G960F)
C1-S9
£49.00
Case for Samsung Galaxy S9+ (plus) (SM-G965F)
C1-S9+
£49.00
Case for Samsung Galaxy S8 (SM-G950F)

- Sale

C1-S8
£29.00
Case for Samsung Galaxy S8+ (plus) (SM-G955F)

- Sale

C1-S8+
£29.00
Case for Samsung Galaxy S7 (SM-G930F)

- Sale

C1-S7
£20.00
Case for Samsung Galaxy S6 Edge (SM-G925)

- Sale

C1-S6E
£20.00
Case for Samsung Galaxy S6 (SM-G920)

- Sale

C1-S6
£20.00
Case for Samsung Galaxy S3 (i9300)

- Clearance

C1-S3
£10.00
Case for Samsung Galaxy S5 Mini (G800F)

- Clearance

C2KS5MINI
£10.00
Case for Samsung Galaxy Note 5 (SM-N920x)

- Clearance

C2KSN5
£10.00
| | |
| --- | --- |
| IMPORTANT Information - Overseas Shipping: | Price: |
| For all orders shipping overseas from the UK, please click on this Add to Cart button to add £7.00 International Signed For postage to your complete order. We regret that we cannot ship overseas orders unless this postage has been added. | |
Phoneskope Push-fit adapter for GoPro Hero 5, 6 or 7
| | | | | | |
| --- | --- | --- | --- | --- | --- |
| Phoneskope adapter for GoPro Hero 5/6/7: | Order code: | Price: | Buy It? | Stock? | Image |
| For GoPro Hero 5, 6 or 7 (NOT compatible with Hero 5 Session or Hero 7 White / Silver models) | C2GPH56 | £35.00 | | | |
| | |
| --- | --- |
| IMPORTANT Information - Overseas Shipping: | Price: |
| For all orders shipping overseas from the UK, please click on this Add to Cart button to add £7.00 International Signed For postage to your complete order. We regret that we cannot ship overseas orders unless this postage has been added. | |
| | | | | | |
| --- | --- | --- | --- | --- | --- |
| C-2 Universal Adapter type: | Order code: | Price: | Buy It? | Stock? | Image |
| C-2 with Velcro™ (Hook & Loop) attachment | C2-HL | £10.00 | | | |
| Set of spare Velcro™ discs (Hook & Loop) for above | C2-VELCRO | £5.00 | | | |
| | |
| --- | --- |
| IMPORTANT Information - Overseas Shipping: | Price: |
| For all orders shipping overseas from the UK, please click on this Add to Cart button to add £7.00 International Signed For postage to your complete order. We regret that we cannot ship overseas orders unless this postage has been added. | |